Huey Copeland
Associate Professor, Art History
Ph.D. University of California, Berkeley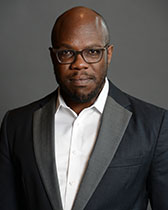 Huey Copeland is Associate Professor of Art History and affiliated faculty in the Critical Theory Cluster, the Department of African American Studies, the Department of Art Theory & Practice, and the Gender and Sexuality Studies Program. His writing—which has been translated into French, German, and Spanish—focuses on modern and contemporary art with an emphasis on articulations of blackness in the Western visual field. A Contributing Editor of Artforum, Copeland has also published in American Art, Art Journal, Callaloo, Camera Obscura, Nka, October, Parkett, Qui Parle, Representations, and Small Axeas well as in numerous international exhibition catalogues and essay collections, such as the award-winning Modern Women: Women Artists at the Museum of Modern Art, edited by Cornelia Butler and Alexandra Schwartz.
Notable among Copeland's publications is Bound to Appear: Art, Slavery, and the Site of Blackness in Multicultural America, a book funded by a Creative Capital/Warhol Foundation Arts Writers Program Grant and published by the University of Chicago Press. Focused on the work of Renée Green, Glenn Ligon, Lorna Simpson, and Fred Wilson, this project considers how slavery shaped American art in the last decades of the twentieth century in order to argue for a reorientation of modern and contemporary art history where the subject of race is concerned. At present, Copeland is at work on a new book, In the Shadow of the Negress: A Brief History of Modern Artistic Practice, which explores the constitutive role played by fictions of black womanhood in Western art from the late-eighteenth century to the present. He is also refining a companion volume—currently entitled Touched by the Mother: On Black Men and Artistic Practice, 1966-2016—that brings together many of his new and previously published critical essays and that has already been recognized with the 2017 Absolut Art Writing Award, intended to support "transformative projects by the world's most creative talent."
Copeland's various research interests are reflected by his interdisciplinary course offerings, which range from the graduate seminar "The Transnational 1960s," to an introductory survey focused on European and American modernisms and their global entanglements. Alongside his work as a teacher, critic, scholar, and administrator, he has co-curated exhibitions such as Interstellar Low Ways (with Anthony Elms), co-organized international conferences like "Black Collectivities" (with Naomi Beckwith), and co-edited several journal volumes, including the "Afrotropes" series (with Krista Thompson). An alumnus of the 2003 Whitney Independent Study Program, the 2013 Johannesburg Workshop in Theory and Criticism, and the 2017 Academic Leadership Program, Copeland has received support from the Alice Kaplan Institute for the Humanities, the American Council of Learned Societies, the Georgia O'Keeffe Museum Research Center for American Modernism, the Program of African Studies, the Terra Foundation for American Art, and the W.E.B. Du Bois Institute for African and African American Research at Harvard University.
Program Area: African American and African Diaspora, Global Modern and Contemporary
Regional Specialization: African American and African Diaspora, United States and Canada
Selected Publications
Huey Copeland and Hannah Feldman, eds., "Tactical Presents, Everyday Futures: Art and the Institutions of Public Space," The Brooklyn Rail, May 2016, 62-67; http://brooklynrail.org/2016/05/editorsmessage/tactical-presents-everyday-futures-art-and-the-institutions-of-public-space
Huey Copeland, "Flow and Arrest," Small Axe: A Caribbean Platform of Criticism 48 (November 2015): 205- 224.
Huey Copeland, "Painting After All: A Conversation with Mark Bradford," Callaloo 37.4 (Fall 2014): 814-826.
Huey Copeland, "Dark Mirrors: Theaster Gates and Ebony," Artforum 52.2, October 2013, 222-229.
Huey Copeland, "In the Wake of the Negress," in Modern Women: Women Artists at the Museum of Modern Art, ed. Cornelia Butler and Alexandra Schwartz (New York: Museum of Modern Art, 2010), 480-497.

Photo by Bonnie Robinson for The Graduate School, 2017
Back to top