Alejandra Uslenghi
Associate Director, Critical Theory;Associate Professor of Spanish and Portuguese
Ph.D. New York University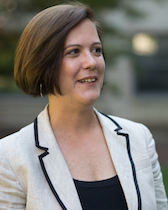 Alejandra holds a Ph.D. in Comparative Literature from New York University (2007) and a M.A. in Liberal Studies from New School for Social Research (2003). She specializes in nineteenth and twentieth-century Latin American literature, with an emphasis on visual culture. She is working on a book manuscript titled "Images of Modernity: Latin American Culture at Universal Exhibitions" which examines literary discourses of modernization in turn-of-the century Argentina, Mexico and Brazil, concurrently with the development of modern urban culture and the introduction of new technologies for the visual construction of the social. Within this framework, she explores how the differential character of modernity in Latin America can be analyzed through the design, architecture, contents and discourse of universal expositions. She uses Walter Benjamin's Arcades Project as one of her conceptual tools in historicizing how these forms of visualization came to actively shape the discourses on landscape and national identity, subjectivity and technology, spectacle and urban experience in Latin America within this comparative and emerging global context.
She is also currently working on a series of essays on literature and photography from the nineteenth-century to the avant-garde movements in Latin America. Her other research interests include modern aesthetics, comparative modernisms, and postcolonial studies.
Alejandra arrived at NU in 2007 where she has taught courses on literary analysis; Latin American Urban Imaginaries; Modernismo; and contemporary Latin American Visual Culture.