Critical Theory in Critical Times Annual Workshop
The Critical Theory in Critical Times annual workshop series is a joint initiative of the Center for Global Culture and Communication (CGCC) and the Critical Theory Cluster. The aim of this workshop series is to create a forum for discussion of recently published work in the tradition of critical theory broadly construed. Authors are invited to an in-depth discussion of their scholarly work with specialists in the field and in a small workshop setting. This setting offers an excellent opportunity to faculty and students of the Northwestern community to directly engage in lively discussion with very distinguished critical theorists from around the world. In preparation of the workshop, a reading session is organized among interested NU faculty and students to discuss the work in question.
For 2021-2022, there are two events of interest. Click below to learn more:
---
2021-2022 Critical theory in critical times Workshop
Me the People: A Discussion on Populism with Nadia Urbinati
Friday, April 1, 2022
3:30pm - 6:30pm CST
Location: Harris Hall-108, Northwestern University, 1881 Sheridan Rd., Evanston IL
The 2022 Critical Theory in Critical Times annual series workshop will focus around the work of Nadia Urbinati (Kyriakos Tsakopoulos Professor of Political Theory at Columbia University) and, in particular, her newest book Me the People: How Populism Transforms Democracy (Harvard University Press). Nadia Urbinati will discuss this work with four commentators: Dilip Gaonkar (Northwestern University), William T. S. Mazzarella (University of Chicago), Axel Mueller (Northwestern University), and Paulina Ochoa Espejo (Haverford College).

| | |
| --- | --- |
| Me the People: How Populism Transforms Democracy | In Me the People, Urbinati argues that populism should be regarded as a new form of representative government, one based on a direct relationship between the leader and those the leader defines as the "good" or "right" people. Populist leaders claim to speak to and for the people without the need for intermediaries―in particular, political parties and independent media―whom they blame for betraying the interests of the ordinary many. Urbinati shows that, while populist governments remain importantly distinct from dictatorial or fascist regimes, their dependence on the will of the leader, along with their willingness to exclude the interests of those deemed outside the bounds of the "good" or "right" people, stretches constitutional democracy to its limits and opens a pathway to authoritarianism. Weaving together theoretical analysis, the history of political thought, and current affairs, Urbinati presents an original and illuminating account of populism and its relation to democracy. |

Reading Group Information
We invite faculty and graduate students to participate in a reading group on Wednesday March 30th, in advance of the April 1, 2022 workshop. A copy of the book will be available to participants. If you would like to participate, please contact Critical Theory Graduate Assistant Usdin Martinez (usdinmartinez2024@u.northwestern.edu).
---
associated event of the critical theory in critical times workshop
Summer 2021 Workshop with Christoph Menke, Critique of Rights
September 20, 2021   **NEW DATE**
Virtual, on Zoom
Contact: Eskil Elling, eskilelling2023@u.northwestern.edu  
All members of the Northwestern Critical Theory community are cordially invited to participate in a summer workshop on Christoph Menke's recently translated book, Critique of Rights. Professor Menke will be present at the workshop, in person and respond to brief comments from the participating graduate students.
Those interested in participating should signal their interest via email to eskilelling2023@u.northwestern.edu.  The exact format is to be determined based on the number of participants. In general, the plan is for each participant to comment on one chapter of the book, possibly split between a few participants due to the length of the chapters.
Christoph Menke is Professor of Practical Philosophy at the Goethe University Frankfurt am Main and the author of numerous works on aesthetics, philosophy of right, and German Idealism. He is also a former Max Kade Distinguished Visiting Professor of German at Northwestern.
About Critique of Rights (from the publisher): Modern political revolutions since the 18th century have swept away traditional systems of domination by declaring that 'all men are created equal'. This declaration of equal rights is a fundamental political act – it is the political act in which the political community creates itself in relation to traditional systems of domination. But because it was generally assumed that the subject of these rights is the individual human being, the political community was subordinated to the individual. Marx discerned, rightly, that this was the paradox at the heart of the declaration of the rights of man.   But while Marx was right to highlight this paradox, his proposed solution does not provide us with a sound basis for overcoming it.   
In this major new work, Christoph Menke adopts a different approach: he argues that we can address and overcome this paradox only by embarking on a fundamental inquiry into the nature of rights.  Rights are a specific configuration of normativity: to have a right is to have a justified and binding claim.  But with the equal rights declared by modern revolutions, rights assumed a particular form: the normative claim to equality was combined with an assumption about the factual conditions of social life.  In this conception, society is the realm of private individuals pursuing their interests, and private interests are therefore seen as the natural basis for politics – what Menke calls 'the naturalization of the social'. By laying bare this conception which lies at the basis of political liberalism and modern law, Menke is able to criticize and move beyond it, opening up a new way of understanding rights that no longer involves the disempowering of the political community.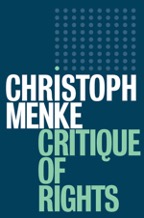 Back to top