Past Critical Theory in Critical Times Workshops
associated event of the critical theory in critical times workshop
Summer 2021 Workshop with Christoph Menke, Critique of Rights
September 20, 2021
Virtual, on Zoom
Contact: Eskil Elling, eskilelling2023@u.northwestern.edu  
All members of the Northwestern Critical Theory community are cordially invited to participate in a summer workshop on Christoph Menke's recently translated book, Critique of Rights. Professor Menke will be present at the workshop, in person and respond to brief comments from the participating graduate students.
Those interested in participating should signal their interest via email to eskilelling2023@u.northwestern.edu.  The exact format is to be determined based on the number of participants. In general, the plan is for each participant to comment on one chapter of the book, possibly split between a few participants due to the length of the chapters.
Christoph Menke is Professor of Practical Philosophy at the Goethe University Frankfurt am Main and the author of numerous works on aesthetics, philosophy of right, and German Idealism. He is also a former Max Kade Distinguished Visiting Professor of German at Northwestern.
About Critique of Rights (from the publisher): Modern political revolutions since the 18th century have swept away traditional systems of domination by declaring that 'all men are created equal'. This declaration of equal rights is a fundamental political act – it is the political act in which the political community creates itself in relation to traditional systems of domination. But because it was generally assumed that the subject of these rights is the individual human being, the political community was subordinated to the individual. Marx discerned, rightly, that this was the paradox at the heart of the declaration of the rights of man.   But while Marx was right to highlight this paradox, his proposed solution does not provide us with a sound basis for overcoming it.   
In this major new work, Christoph Menke adopts a different approach: he argues that we can address and overcome this paradox only by embarking on a fundamental inquiry into the nature of rights.  Rights are a specific configuration of normativity: to have a right is to have a justified and binding claim.  But with the equal rights declared by modern revolutions, rights assumed a particular form: the normative claim to equality was combined with an assumption about the factual conditions of social life.  In this conception, society is the realm of private individuals pursuing their interests, and private interests are therefore seen as the natural basis for politics – what Menke calls 'the naturalization of the social'. By laying bare this conception which lies at the basis of political liberalism and modern law, Menke is able to criticize and move beyond it, opening up a new way of understanding rights that no longer involves the disempowering of the political community.  
2020-2021 virtual Workshop
Critique of Latin American Reason by Santiago Castro-Gómez
Thursday, October 29 & Friday, October 30, 2020
4pm - 6pm CST
Virtual event via Zoom
Crítica de la razón latinoamericana (Critique of Latin American Reason), by Santiago Castro-Gómez, was published in 1996 and stands as one of the most important philosophical texts to have come out of Latin America in the last twenty–five years. As a critique of the foundational schools of thought in Latin American philosophical and critical history, the author analyzes Latin American modern and postmodern positions on the normative status of modernity, identity, colonial history and heritage, also showing how these have intersected with popular culture. While these themes span the South-American continent, they also implicate broader and protracted global processes — including the legacy of colonialism — that make the book widely relevant and timely. The work underscore the significance of the transition from schools of utopianism and philosophy of history, philosophies of emancipation and liberation, to critical ontologies of the present. As a contribution to contemporary Latin American critical theory, the work is also distinctive for the attention it gives to Mexican thinkers who contributed to the field in the first half of the 20th century.
Faculty Participants Include:
Santiago Castro-Gómez, Pontificia Universidad Javeriana
Eduardo Mendieta, Pennsylvania  State University
Linda Martín Alcoff, Hunter College and City University of New York Graduate Center
Rocío Zambrana, Emory University
María del Roasario Acosta López, Univsersity of California – Riverside
Barnor Hesse, Northwestern University
Jimmy Casas Klausen, Pontifícia Universidade Católica do Rio de Janeiro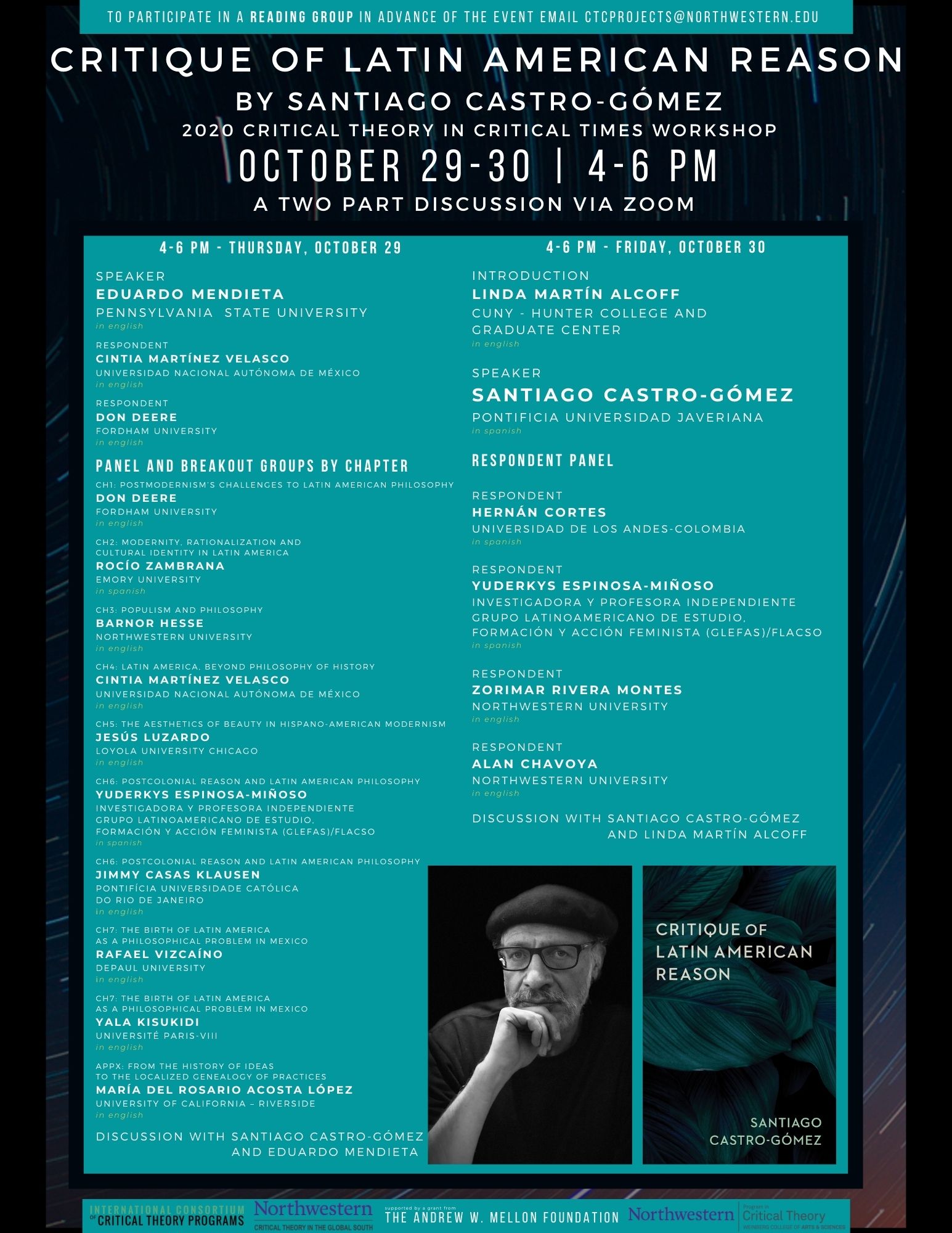 View poster with more information
Reading Group Information for 2020 Critical Theory in Critical Theory Virtual Workshop
We invite faculty and graduate students to participate in a reading group in advance of the October 29 and 30 workshop. A copy of the book chapters and manuscript will be available to participants.
---
2019-2020 CTCT Workshop: The White Leviathan: Nonwhite Bodies in the White Body Politic | A Conversation with Charles Mills
---
2018-2019 CTCT Workshop: EXILE, STATELESSNESS, MIGRATION | A Discussion with Seyla Benhabib
---
2016-2017 CTCT Workshop: A Discussion with Axel Honneth on Freedom's Right
---
2015-16 CTCT Workshop: Undoing the Demos. A Discussion with Wendy Brown
---
2014-15 CTCT Workshop: Critical Theory of Legal Revolutions. A Discussion with Hauke Brunkhorst
---
May 2014: Inaugural Critical Theory in Critical Times Workshop: Keynote Address by Jürgen Habermas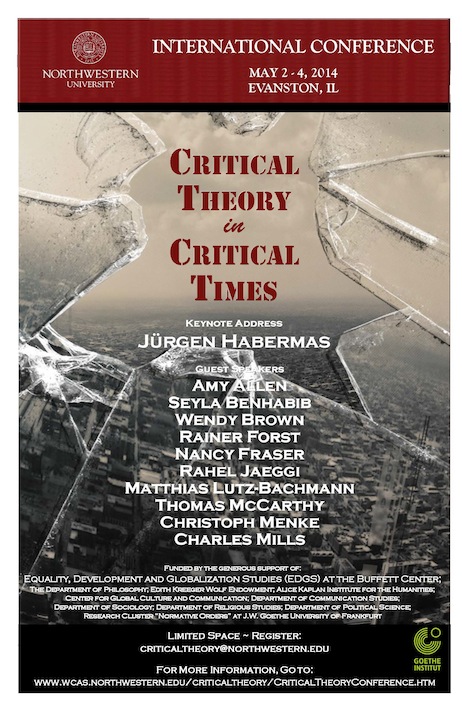 Back to top