German and Latin American Critical Theory Cooperation
Dr. Rocío Zambrana, 2018 Edith Kreeger Wolf Distinguished Visiting Professor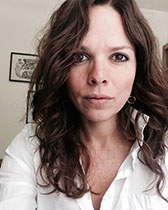 Dr. Rocío Zambrana was named as the 2018 Edith Kreeger Wolf Distinguished Visiting Professor at Northwestern University. Zambrana is Associate Professor of Philosophy at University of Oregon. She is the author of Hegel's Theory of Intelligibility (University of Chicago Press, 2015). Her areas of expertise are 18th-, 19th- and 20th-Century Continental Philosophy—in particular Kant, Hegel and Marx—Social and Political Philosophy, the concept of critique in Frankfurt School Critical Theory, Marxist Feminisms, Decolonial Thought, and Decolonial Feminisms. Her second book project, forthcoming next year, is titled Colonial Debts: The Case of Puerto Rico and develops the notion of "neoliberal coloniality" in light of the debt crisis in Puerto Rico. She argues that debt functions not only as an apparatus of capture, predation and extraction, but also as a form of coloniality, deepening race/gender hierarchies. The book considers the critical and political strictures of neoliberal coloniality in Puerto Rico through an engagement with critical theory and decolonial thought.

Prof. Zambrana's visit as 2018 Edith Kreeger Wolf Distinguished Professor was a common endeavor among several departments and programs, and the first time the EKWDVP was appointed to the Spanish & Portuguese Department. Other co-sponsors, including the Department of Philosophy, Department of German, and the programs of Comparative Literary Studies, Critical Theory and Latin American and Caribbean Studies, joined in the initiative and provided venues for dialogue and intellectual exchange between Prof. Zambrana and Northwestern's diverse undergraduate and graduate student base. Her unique orientation, which is situated between contemporary critical theory, decolonial thought and feminist philosophy was a welcome addition to our course offerings and research agenda, creating paths of mutual interest and reflection in fields that have shown incredible potential to address and intervene in contemporary structures of injustice and exclusion.
Prof. Zambrana taught two courses during the Spring 2018 quarter, both based in the Department of Spanish and Portuguese and cross-listed with co-sponsoring programs, which resulted in a diverse class of students from different disciplines in Humanities and Social Sciences. The first course, titled "On Debt," explored the idea of debt as a social relation. This course drew from Prof. Zambrana's second book and examined debt as an economic, social, and historical relation in order to consider its critical function, thus inviting students to engage in a critique of debt. She also taught a graduate seminar titled "Towards a Decolonial Critical Theory," combining the analyses of Frankfurt School Critical Theory with contemporary Decolonial Thought and Decolonial Feminism in order to construct a decolonial critical theory of society. Prof. Zambrana's teaching received praised and recognition, and students remarked on her ability to enthusiastically engage them in philosophical reflection.

Prof. Zambrana also participated in the workshop "Neoliberal Coloniality," led by philosophy graduate students, where she shared and discussed several chapters of her upcoming book and the specificity of the Puerto Rican case, elaborating on the multiple forms of social resistance that she has been documenting on the island. She also was invited as respondent to a graduate workshop in the Spanish & Portuguese Department where graduate students presented their research.

Finally, in early June, Prof. Zambrana gave a university-wide public lecture titled "Notes for a Decolonial Critique of Debt." She was introduced by Prof. José Medina from the Philosophy Department. Her talk brought together students and faculty across Weinberg College, providing an inspiring example of female philosophical reflection that engages in contemporary cultural, social and political issues, seeks to intervene and make visible the unfair treatment of individuals, groups and traditions, and uncovers forms of resistance and political struggle for institutional transformation.
The Edith Kreeger Wolf Endowment brings to Northwestern's campus scholars, professionals, and public figures, with the goal of deepening students' familiarity with accomplishments women have brought to their fields of scholarship, the arts, public service, and the professions.

History of the Kreeger Wolf Endowment in Weinberg College
In the early 1970s, Edith Kreeger Wolf, a Chicago philanthropist, looked at the world around her and observed that female students had few role models among the faculty of American universities. Discussing these thoughts with her daughters, Carol Kreeger Davidson (WCAS '50) and Margery Kreeger Fridstein (School of Communications '46), she decided to make a gift to a Chicago institution that had been influential in her lifetime. She chose Northwestern, which had educated both daughters and enabled them to develop into successful women. The Edith Kreeger Wolf Distinguished Visiting Professorship took form in consultation with Hanna Gray, then dean of Northwestern's College of Arts and Sciences. The Kreeger Wolf Endowment, established in 1973, has had the goal of deepening students' familiarity with fields of study fostered largely by women, and with the knowledge gained in diverse fields when women play a central role in inquiry and scholarship. The visiting professorships are an invaluable complement to the teaching of our own faculty.
Christoph Menke: Benjamin's Critique of Violence
A book discussion with Christoph Menke, María del Rosario Acosta, Ronald Mendoza-de Jesús, and Rocío Zambrana
Date: November 8, 2017, 3pm - 5pm
Location: Kresge Hall 3535, Northwestern
In his Law and Violence, Menke offers a critical reading of Walter Benjamin's "Critique of Violence," and focuses on the fundamental question for legal and political philosophy: the relationship between law and violence. The first part of the essay shows why and in what precise sense the law is irreducibly violent; the second part establishes the possibility of the law becoming self-reflectively aware of its own violence.
The english translation of this book is accompanied by numerous commentaries, including one by Acosta, who will be present to discuss the project with Menke. Acosta's commentary focuses on the possible relation between this project and transitional justice processes in South America and South Africa.
Participants who would also like to pose a formal (5 minute) response to Menke and Acosta should indicate this by e-mailing Eli Lichtenstein (eli.b.lichtenstein@u.northwestern.edu). The workshop will be able to accommodate only a limited number of formal responses.
Required Bibliography:
Benjamin, Walter. "Critique of Violence." In Reflections, Translated by Edmund Jephcott, Edited by Peter Demetz, 277-300. New York: Schocken Books, 1978.
Menke, Christoph. Law and Violence: Christoph Menke in Dialogue. Manchester: Manchester University Press, 2018.*
*Please contact Gabby Garcia at gabbygarcia@u.northwestern.edu for an advance proof copy.
Suggested Background Bibliography:
Acosta López, María del Rosario. "Another Kind of Community: Hegel on Law, Love and Life in the Frankfurt Fragments." In Der Frankfurter Hegel in seinem Kontext, Edited by Thomas Hanke and Thomas M. Schmidt, 191-208. Frankfurt am Main: Vittorio Klostermann, 2015.
———. "'The Gorgon's Head': Hegel on Law and Violence in the Frankfurt Fragments." CR: The New Centennial Review 14, no. 2 (2014): 29-48.
Mendoza-De Jesús, Ronald. "Invention of the Death Penalty: Abolitionism at Its Limits." The Oxford Literary Review 35, no. 2 (2013): 221-40.
———. "Sovereignty: An Infrapolitical Question." TRANSMODERNITY: Journal of Peripheral Cultural Production of the Luso-Hispanic World 5, no. 1 (2015): 52-80.
Menke, Christoph. "Law and Violence." Law & Literature 22, no. 1 (2010): 1-17.
Zambrana, Rocío. "Dialectics as Resistance: Hegel, Benjamin, Adorno." In Hegel and Resistance: History, Politics and Dialectics, Edited by Rebecca Comay and Bart Zantvoort, 59-77. London: Boomsbury Academic, 2018.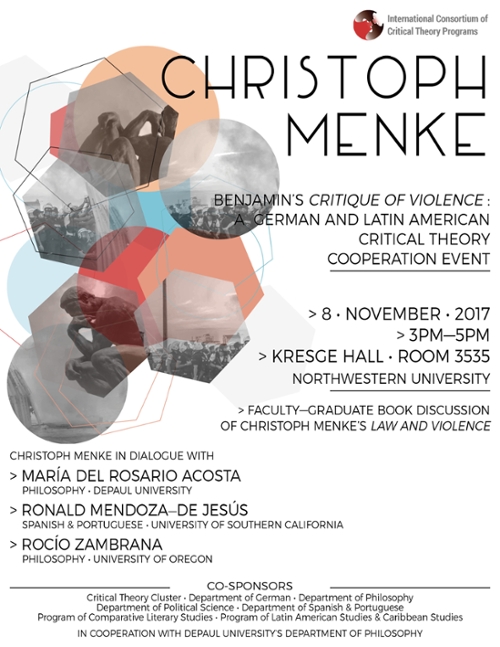 Critical Theory Cluster
Date: May 25-16, 2017
Place: Kresge 5-531, Northwestern
Presenters: Rosaura Martinez & Isabelle Alfandary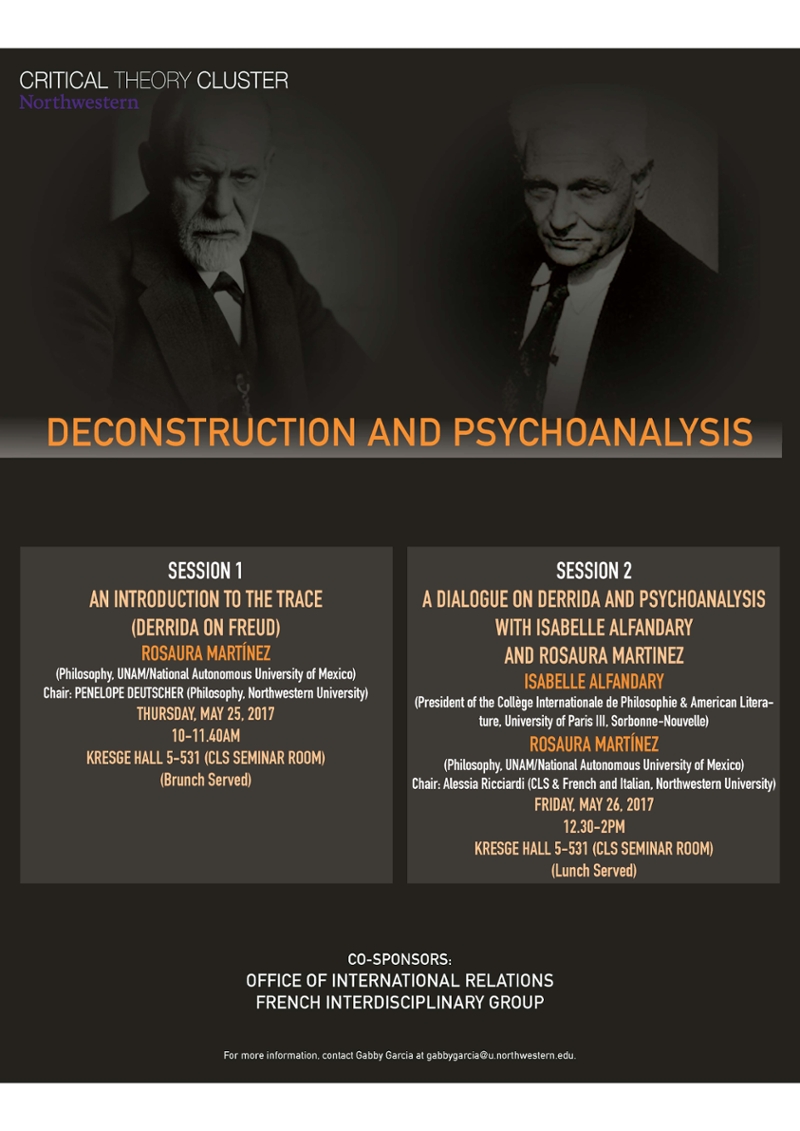 Comparative Literary Studies Colloquium
Date: March 3, 2017
Place: McCormick Foundation Center, Northwestern

Audio presentations:
Peter Fenves, "At the Origin of Critical Theory; or, the Story of Two Walters" - Audio File
Jorge Coronado, "On Critical Thought in the Andes: José Carlos Mariátegui Reading and Being Read" - Audio File
Q&A - Audio File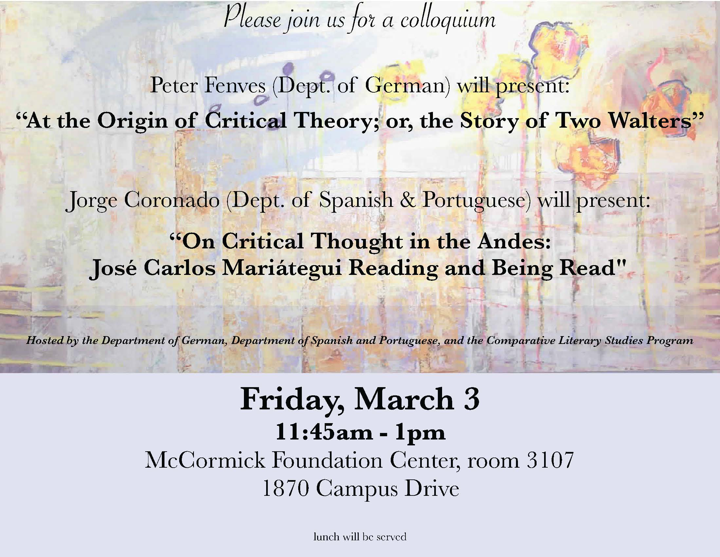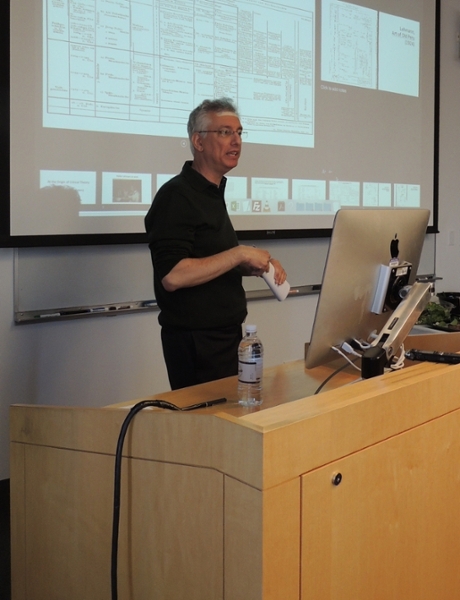 Prof. Peter Fenves, Dept. of German "At the Origin of Critical Theory; or, the Story of the Two Walters"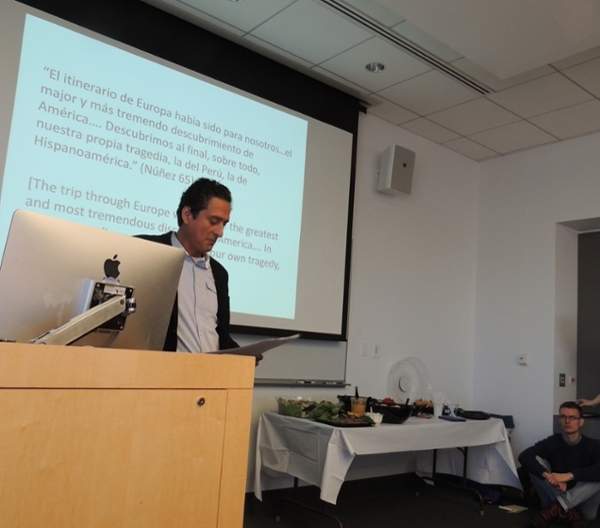 Prof. Jorge Coronado, Dept. of Spanish and Portuguese: "On Critical Thought in the Andes: José Carlos Mariátegui Reading and Being Read"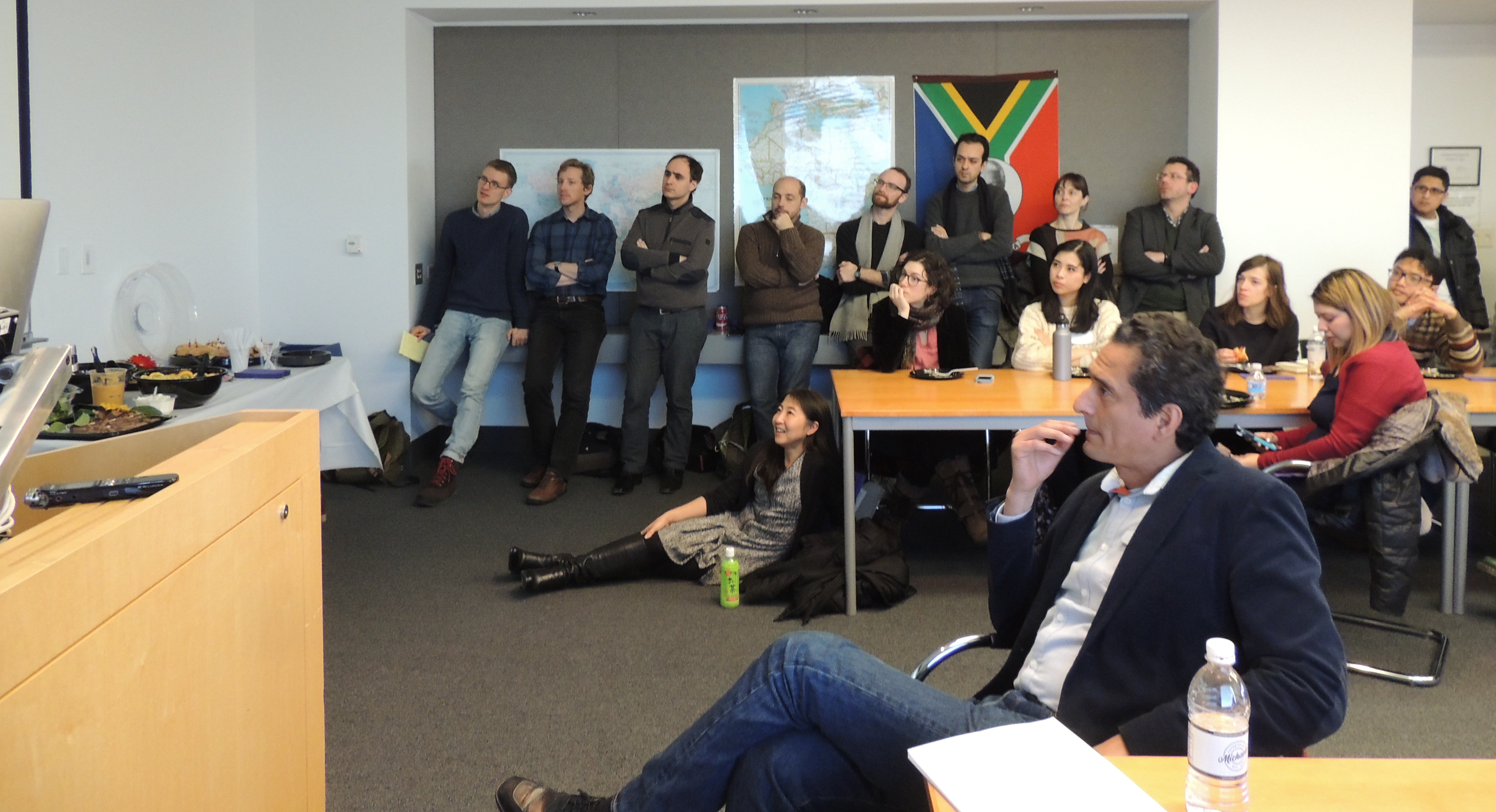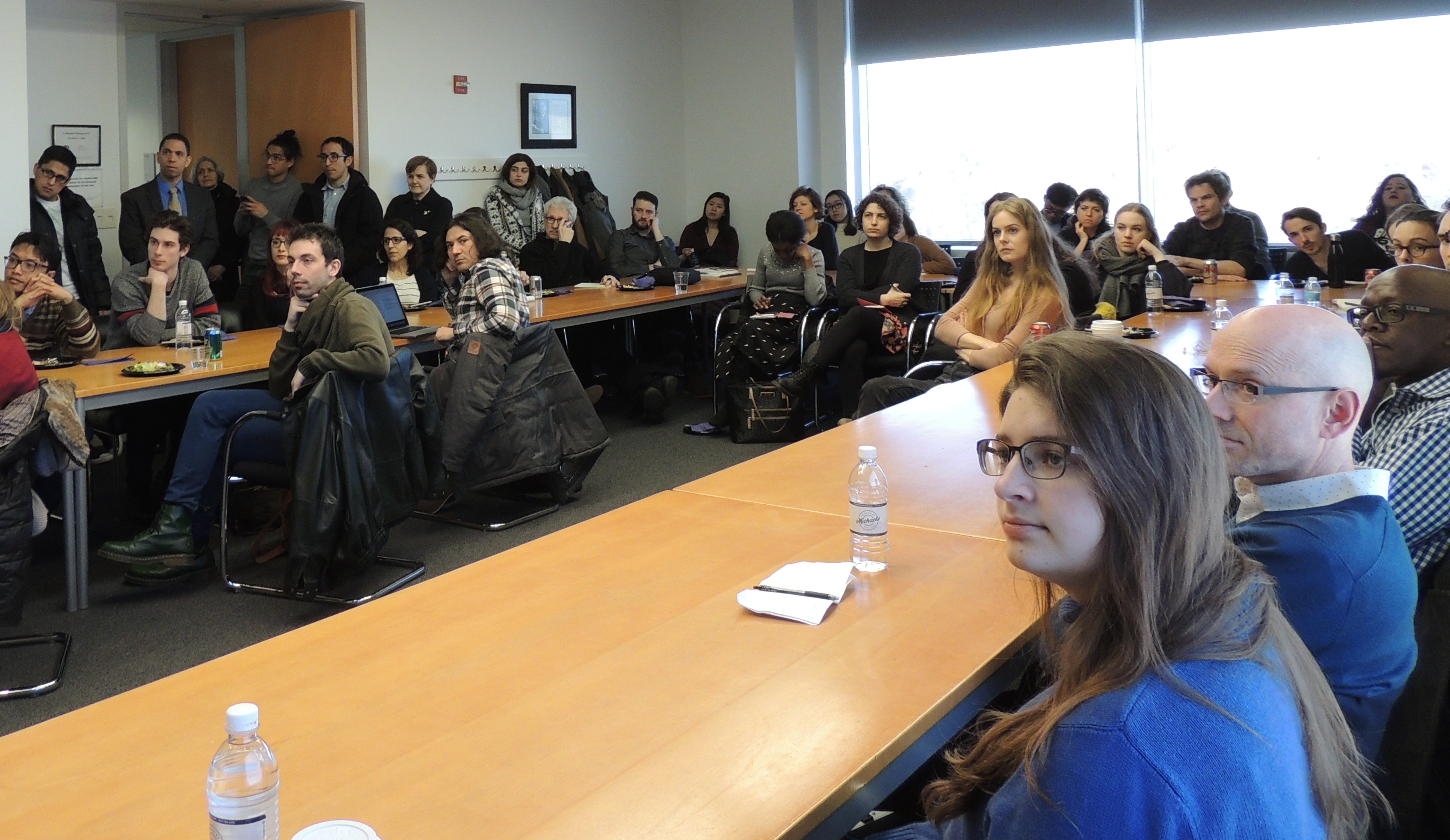 Notes for a Decolonial Critical Theory: Critique in Adorno & Horkheimer, Castro-Gómez, Quijano
Date: February 17, 2017
Place: Kaplan Institute for the Humanities, Northwestern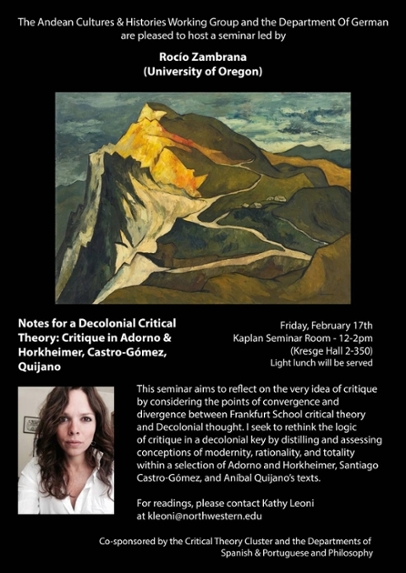 The Andean Cultures and Histories Working Group and the Department of German hosted Prof. Rocío Zambrana, (U of Oregon, Philosophy) for a seminar around the theme: "A Critique of Latin American Reason" (Castro-Gómez). The presentation was drawn from Zambrana's manuscript in progress Neoliberal Coloniality, Critique, Resistance. Graduate students and faculty from a number of departments including Philosophy, German, Spanish and Portugese, French, Comparative Literary Studies came together for a lively discussion on the idea of critique by considering the points of convergence and divergence between the Frankfurt School critical theory and Decolonial thought.

Back to top