Appropriation and Its Discontents
This collaborative project--between Associate Professor of Art History Huey Copeland (Northwestern University) and MFA student Athi Mongezeleli Joja (University of the Witwatersrand)--focuses on comparative approaches to theories of cultural appropriation, with a particular emphasis on the global circulation of black bodies, discourses, and art forms from an Afro-pessimist perspective. Together, Copeland and Joja will develop interdisciplinary graduate and undergraduate courses that critically interrogate the ways in which blackness variously functions across and between the global North and South.​
Participants
Huey Copeland is Associate Professor of Art History and affiliated faculty in the Critical Theory Cluster, the Department of African American Studies, the Department of Art Theory & Practice, and the Gender and Sexuality Studies Program at Northwestern. Focusing on modern and contemporary art with an emphasis on articulations of blackness in the Western visual field, Copeland is the author of Bound to Appear: Art, Slavery, and the Site of Blackness in Multicultural America (2013), as well as numerous articles and chapters. He is currently at work on a new book, In the Shadow of the Negress: A Brief History of Modern Artistic Practice, which explores the constitutive role played by fictions of black womanhood in Western art from the late-eighteenth century to the present. Photo by Bonnie Robinson for The Graduate School, 2017.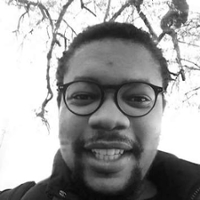 Athi Mongezeleli Joja is an art critic based in Johannesburg, South Africa. A member of the art collective Gugulective, he is currently studying toward his MFA at the University of the Witswatersrand on the critical practice of late critic Colin Richards. His writing has appeared in publications such as Art Throb, The Mail and Guardian, Contemporary And (C&), Chimurenga Chronic, and Africanah.
Project Syllabi
Copeland and Joja generated two versions of the "Appropriation...." syllabus; the first approaches the problem of appropriation in art and culture from a North American art historical perspective, and the second expands and critiques the first from a South African perspective.
A comparative, side-by-side visualization of the two versions of the syllabus is available via Juxta.
Supplemental Project Syllabi
In the context of this project, Copeland also developed and co-taught the cross-institutional course with Sam Aranke.
Related Articles
Background Reading
Aranke, Sampada. "Fred Hampton's Murder and the Coming Revolution." Trans-Scripts: An Interdisciplinary Journal in the Humanities and Social Sciences 3 (2013): 116–139.
Asega, Salome, Homi K. Bhabha, Gregg Bordowitz, Joan Kee, Michelle Kuo, Ajay Kurian, and Jacolby Satterwhite. "Cultural Appropriation: A Roundtable," Artforum, Summer 2017, 266-277.
Clifford, James. "On Collecting Art and Culture." In The Predicament of Culture: Twentieth-Century Ethnography, Literature, and Art, 215-251. Cambridge, MA: Harvard University Press, 1988.
Copeland, Huey. "Some Ways of Playing Antinova." In Multiple Occupancy: Eleanor Antin's "Selves", edited by Emily Liebert, 30–40. New York: Columbia University, The Miriam and Ira D. Wallach Gallery, 2013.
Copeland, Huey. "Flow and Arrest." Small Axe19, no. 3 (2015): 205–224.
Crimp, Douglas. "Pictures." October 8 (Spring 1979): 75–88.
Fanon, Frantz. "On National Culture." In The Wretched of the Earth, 145-180. New York: Grove Press, 2004.
Fusco, Coco. "The Other History of Intercultural Performance." TDR 38, no. 1 (Spring 1994): 143–167.
Joja, Athi Mongezeleli. "Critical Reflections on 'Exhibit B' and the South African Art World." Art South Africa13, no. 2 (2014): 86–87.
Kinney, Dale. "Introduction." In Reuse Value: Spolia and Appropriation in Art and Architecture from Constantine to Sherrie Levine, edited by Richard Brilliant and Dale Kinney, 1–11. New York: Ashgate Publishing, 2011.
Mudimbe, V. Y. "Reprendre: Enunciations and Strategies in Contemporary African Arts." In Reading the Contemporary: African Art from Theory to the Market, edited by Olu Oguibe and Okwui Enwezor, 30-47. London: Institute of International Visual Arts, 1999.
Philip, M. NourbeSe. "The Disappearing Debate: or, How the Discussion of Racism Has Been Taken Over by the Censorship Issue." In Blank: Essays and Interviews, 198-242. Toronto: Book Thug, 2017.
Thomas, Nicholas. "The European Appropriation of Indigenous things." In Entangled Objects: Exchange, Material Culture, and Colonialism in thePacific, 125–184. Cambridge, MA: Harvard University Press, 1991.
Wilderson, Frank B., III. Incognegro: A Memoir of Exile and Apartheid. Durham, NC: Duke University Press, 2015.
Wilderson, Frank B., III. "The Narcissistic Slave." In Red, White & Black: Cinema and the Structure of U.S. Antagonisms, 54–91. Durham, NC: Duke University Press, 2010.
News and Events
November 2020 | Northwestern


Workshop: Death's Futurity: The Visual Life of Black Power

With Sampada Aranke and Huey Copeland. Responses by æryka hollis o'neil, Jordan Mulkey, Harrison Graves, and Alex Weheliye, via Zoom (November 2020) as part of Appropriation and Its Discontents

August 2018
Copeland and Joja completed their collaborative syllabus "Appropriation...." They generated two versions of the syllabus, both of which are available for consultation, download, and comparison above.


April 6, 2018
Athi Joja has completed his residency at Northwestern and returned to the University of the Witwatersrand. During his stay, he focused on comparative approaches to the black arts, particularly in terms of theories of cultural appropriation and the global circulation of black bodies from an Afro-pessimist perspective. To facilitate this work and to broaden their intellectual framework, Copeland and Joja curated a series of 3 monthly events during the quarter: the first 2 were reading and discussion groups—comprising approximately a dozen faculty and graduate students from Northwestern and the School of the Art Institute of Chicago—examining recent books exploring black visual cultures from radically interdisciplinary perspectives (Fred Moten's Black and Blur and Tina Campt's Listening to Images); the 3rd and final event was Joja's lecture "Dumile and the Sketches of Jazz."


April 3, 2018 | Northwestern
Visiting scholar Athi Joja delivered his paper "Dumile and the Sketches of Jazz." Exploring how jazz impacted the visual language of the iconic South African artist Dumile Feni, Joja presented an introductory overview of Feni's unique oeuvre and the intricate ways in which jazz both constitutes much of its subject matter and, more importantly, informs its expressive grammar. Joja argued that in spite of Dumile's noted stylistic and formal shifts throughout his career, jazz remained the most consistently present idiom in his work, shaping his well-known beautiful line.




January 2018 | Northwestern
Athi Joja is in residence at Northwestern and working with Professor Copeland on their collaboration. Welcome, Athi!


November 10–13, 2017 | Northwestern and the School of the Art Institute of Chicago
Athi Joja visited Northwestern for "Transformations of Critical Theory," the inaugural workshop of the Critical Theory in the Global South Project, where he and Professor Copeland presented their work on the Appropriation and Its Discontents project, with a response from Northwestern graduate student Mlondolozi Zondi. On the final day of the workshop, Copeland, together with Fumi Okiji, Northwestern's 2017-18 Black Arts Postdoctoral Fellow, led a graduate-student teach-in on the theme "Afro-Pessimism, North and South."

On November 10, Copeland, Joja, and Zondi, alongside

Frank Wilderson, III (University of California, Irvine) and Sampada Aranke (School of the Art Institute of Chicago),

 presented their work at "Afro-Pessimist Aesthetics: A Roundtable"

 

at the School of the Art Institute of Chicago. Copeland is at work with Joja and Aranke to assemble these contributions—along with a commissioned  response to them—with an eye towards publishing all of the materials as a dossier in a peer-reviewed journal in 2019.


From left to right: Huey Copeland, Athi Joja, and Mlondi Zondi


Fumi Okiji
Back to top