Anna Parkinson
Associate Professor of German
Ph.D. Cornell University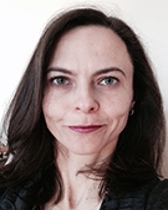 Anna Parkinson is Associate Professor in the Department of German, a member of the Critical Theory Cluster, and an affiliate of the Gender and Sexuality Studies Program at Northwestern University. She received her Ph.D. in German Studies, with a minor in Feminist, Gender, and Sexuality Studies, at Cornell University in 2007, and her dissertation was awarded the Women in German Prize for the best dissertation (2008). Prior to this, she attended the University of Melbourne in Australia, Freiburg University, and the Freie University Berlin in Germany. She joined the German Department at Northwestern in 2009 as Assistant Professor, before which she was Assistant Professor and Director of Undergraduate Studies at the University of North Carolina at Chapel Hill (2007-2009).
Her research has been supported by grants from institutions including the DAAD, the Vice-Chancellor's Office at the University of Melbourne, the Mario Einaudi Center for International Studies, the Mellon Foundation, the Society for the Humanities at Cornell University, the Deutsches Literaturarchiv (Marbach), the American Psychoanalytic Association, the Association for Women-in German, the "Languages of Emotion" Excellence Cluster at the Freie Universität Berlin, and the Mandel Center for Advanced Holocaust Studies at the United States Holocaust Museum.
Her first book, titled An Emotional State: The Politics of Emotion in Postwar West German Culture, is forthcoming in Fall 2015 from the University of Michigan Press in the "Social History, Popular Culture, and Politics in Germany" series. Her book brings theories of affect into dialogue with the history of emotions to propose a practice of "reading for emotion" that affords unexpected affective vistas, revealing the impact of emotional norms implicit in Allied reeducation and democratization in West Germany during this exceptional historical period. She critiques the moral impulse of the unfolding normalization of affect, examining how intellectuals and writers, including Karl Jaspers, Hannah Arendt, Ernst von Salomon, Alexander and Margarete Mitscherlich, and T. W. Adorno and other members of the Frankfurt School, reworked concepts of emotion as they reflected on the "state" of postwar West Germany.
Recent publications include: "Adorno on the Airwaves: Feeling Reason, Educating Emotions," in German Politics and Society (2014), and "The Death of the Adversary: Enduring Ambivalence in Hans Keilson's Postwar Psychoanalytic Literature," in Simone Schröder, Ulrike Weymann, and Andreas
Martin Widmann, "Die vergangene Zeit bleibt die erlittene Zeit." Untersuchungen zum Werk von Hans Keilson (Königshauses und Neumann, 2013). She has recently begun a new book project tentatively titled In the Final Analysis: Hans Keilson's Fiction, Psychoanalysis, and the Long Twentieth Century, which will examine the status of humanism as a source of untimeliness in twentieth-century psychoanalysis, life-writing, and fiction through the lens of Hans Keilson's writings and biography.
Teaching and research interests include: twentieth and twenty-first century German literature and film, psychoanalytic and critical theory, contemporary South African literature and film, literature of migration, gender and queer theory, literary theory, memory studies, genocide studies, translation theory, and media of the Cold War era.
Back to top