Ryan Dohoney
Associate Professor, Musicology
Ph.D. Columbia University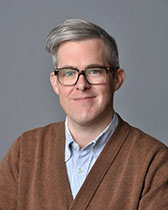 My research is concerned broadly with musical mediation—those things which music must pass through in order to exist. I approach mediation through three modes of inquiry—historical investigation of experimental music, philosophical reflection into music's ontologies and affects, and phenomenological-subjective music analysis.  My historical work is concentrated on U.S. and European experimental music, particularly the lives and work of Morton Feldman and Julius Eastman. Currently, I am completing a microhistorical study of the premier of Feldman's music for the Rothko Chapel in 1972. I document the translation of Feldman's music from being the sound of modernist abstraction into an ecumenically religious sound world useful for contemporary ritual. I examine the premier performance from numerous perspectives—Feldman's own, his patrons Dominique and John de Menil, the viola soloist Karen Philips, and the contested legacy of Mark Rothko overshadowing them all.
My other in-progress research project is focused on the communities of composer-performer-improviser Julius Eastman in New York City, 1968–1984. Using a similar method of close-up analysis as in my Feldman project, I argue that an account of Eastman's musical life destabilizes entrenched epistemological divides between New York' s uptown and downtown scenes. In recomposing Eastman's fragmentary past, I hope to offer ways to rethink how we define sonic geographies and decide whose musical lives matter. My future research plans include a multi-site ethnography of the Wandelweiser composer-performer collective that examines their decentralized community and non-sovereign politics. My work on Wandelweiser also explores the group's commitment to critical theory as a mode of thought that can be mobilized as musical performance. I have developed my philosophical interests in two essays on the feminist vocal philosophy of Adriana Cavarero. I have been fortunate to have my research supported by a stipendium from the Paul Sacher Stiftung (2010), a Franklin Grant from the American Philosophical Society (2015), and a fellowship from the American Council of Learned Societies (2015–16). A list of recent publications can be found here.
My teaching addresses topics in historical musicology and ethnomusicology. I have offered such undergraduate courses as "Experimental Music in Theory and Practice," "Music in Cold War Culture," an archival research seminar on John Cage, "Queer Musicality," "Music, Race, and Nation," and "Postcolonial Pop and Hip Hop in Africa." I also teach "World Music Cultures," the ethnomusicology component of the undergraduate music curriculum. My recent and upcoming graduate seminars include "Musical Mediation and Circulation," "Sound, Affect, and Signification," "Queer Theory," "Historiography of the Avant-Garde," and "Adorno's Musical Thought."
I advise a wide range of PhD students and am particularly interested to work with researchers investigating musical modernism (broadly construed), experimental music, music philosophy, LGBTQ topics, and science/technology studies. I work closely with my students to develop both research and professional skills and am particularly keen to help them develop non-pathological writing habits. My advisees' current research includes experimental music as interpretive labor, the re-mediation of U.S. musicals from film to radio, the affects and semiotics of Japanese popular music, and transatlantic networks of gay modernists and their intimate publics.
In addition to my work in Bienen's music studies department, I work closely with the Institute for New Music and am affiliated faculty with the interdisciplinary clusters in Critical Theory, Global Avant-Garde and Modernist Studies, and Gender and Sexuality Studies.