Rocío Zambrana
Edith Kreeger Wolf Distinguished Visiting Associate Professor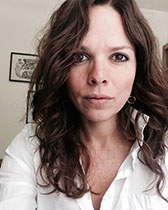 Edith Kreeger Wolf Distinguished Visiting Associate Professor in the Department of Spanish and Portuguese | Spring 2018.
Rocío Zambrana is Associate Professor of Philosophy at the University of Oregon. Her work examines conceptions of critique in Kant and German Idealism (especially Hegel), Marx and Frankfurt School Critical Theory, and Decolonial Thought. She is the author of Hegel's Theory of Intelligibility (University of Chicago Press, 2015), and articles on Hegel, Kant, and Critical Theory. She is currently writing a book entitled Neoliberal Coloniality, Critique, Resistance.
Examining the debt crisis in Puerto Rico, Neoliberal Coloniality, Critique, Resistance develops the concept "neoliberal coloniality." Debt functions not only as a mechanism of capture, predation, and extraction, intensifying a neoliberalism reconfigured by the financial crisis. It also functions as a form of coloniality, deepening racial/gender hierarchies that mark populations as radically dispensable. The book considers the critical and political strictures of neoliberal coloniality through an engagement with Critical Theory, Decolonial Thought, and Puerto Rican social and political criticism. At Northwestern, she will teach seminars related to this project—Toward a Decolonial Critical Theory and On Debt.
Back to top